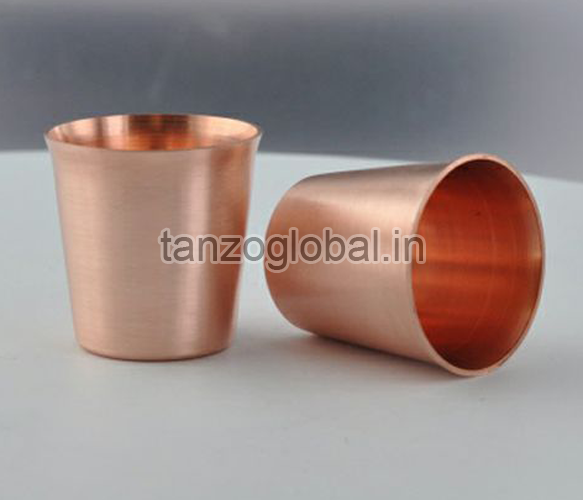 At a time when people often discuss about reducing the use of plastic in their daily life, they would need something which is reusable and does not cause any harm to the environment. Copper is considered be one of the best materials that is used for manufacturing copper water glasses in industries due to it's reusable nature. According to several studies, drinking water from a copper water glass is considered to be much healthier for an average individual than drinking from a stainless steel glass. There are several health benefits of drinking water from a copper water glass some of which include improved digestion, reduction in the time of wounds helping, improved immune system and more. Copper can be classified as an essential nutrient for all living cells. Not just it helps in maintaining the bodily systems of an individual but it also is involved in production of melanin in skin. Melanin is a bodily brown pigment which can be found in bodies of most organisms. It is considered to provide the pigmentation that is required for the human skin, hair and eyes. Besides Melanin also protects humans from the harmful Ultraviolet rays or UV rays of the sun. Together with iron, copper can also enables the body to form Red blood cells or RBCs. Red blood cells help in carrying oxygen from the lungs to the rest of the body in a person. Given below are some more properties of copper glasses:

• Antibacterial : Copper is also known to have potential antibacterial properties. These days even hospitals have started the use of copper and copper based products. In such places sometimes door handles or light switches are made of copper or copper alloys as well. Scientists have found out that when bacteria gets in contact with such surfaces they start dying very rapidly. This process has been termed as Contact killing. Even in records of around more than 4 thousand years there have been mentions of people using copper for drinking water and sterilizing their wounds.

• Durable : Companies which act as copper water glass supplier in the market have claimed and proven how with the help of the latest technology and raw materials available they have been successful in preparing long lasting and durable copper products.

• Better immunity: The deficiency of copper is not considered good for the White blood cells or WBCs present in the bodies of humans. White blood cells help the body to fight diseases and other infections. So using copper water glasses to drink water can be identified as one of the perfect ways to enhance one's immunity and keep the body healthy.

• Boost in the hemoglobincount: Hemoglobin is a protein molecule that is present in the Red blood cells or RBCs in the body of a person . Red blood cells are extremely crucial for proper functioning of the body. Certain studies have revealed that the copper water can aid in breaking down food and help in the production of hemoglobin. It also helps in better absorption of iron in the body.
This entry was posted on July, 26, 2021 at 12 : 21 pm and is filed under Copper Water Glass. You can follow any responses to this entry through the RSS 2.0 feed. You can leave a response from your own site.